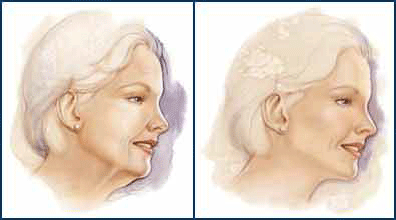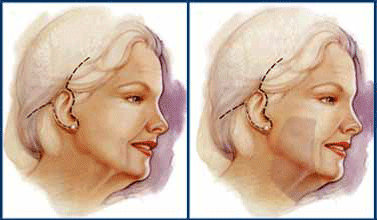 Face Lifting: The aim of this surgery
The aim of this face lifting is to address the laxity of the tissues which happens over time, to remove excess skin and to flatten the wrinkles. The initial skin elasticity is not restart  by the operation.
Anaesthesia – Description of surgery
The surgery can be performed under general anesthesia or local anesthesia in conjunction with a slight sedation (intoxication).
With local anesthesia the patient  goes home on the same day.
The usual incision begins in front and below the sideburns, goes  to the front boundary of the ear and turns  as an arc behind the ear to the height limit of the hair.
The skin detaches and the relaxed tissues underneath are stretched.
The excess skin is removed and the edges of the incisions are sutured without tension. This procedure can be combined with a blepharoplasty. If this is the case, the doctor will consult with you accordingly.
For a few days an elastic bandage has to be worn on the  face and neck.
It is normal if after surgery the following occur:
edema
ecchymosis
Feeling of tension (especially behind the ears)
These effects usually disappear after a few days. However tough sensation maybe left in detached areas as well as a reduction of sensation in the area around the incisions, especially in the ear area.
The stitches are removed depending on the region, on the 7th and on the 14th day.
The edema normally disappears after one month. After 2-3 months the results of the operation will be obvious.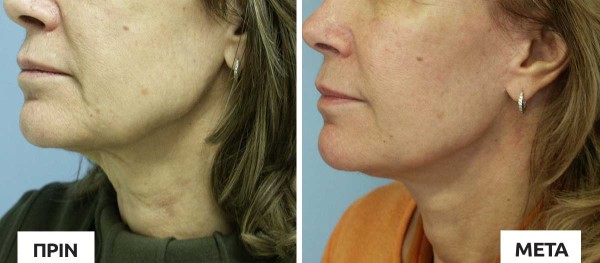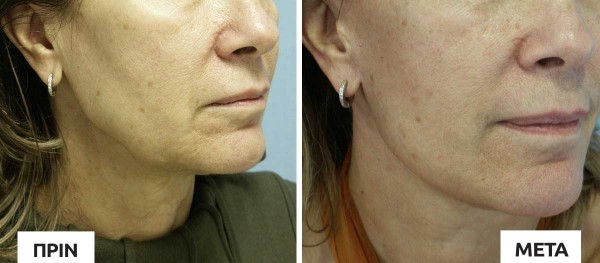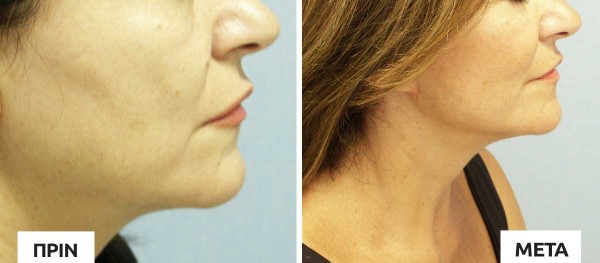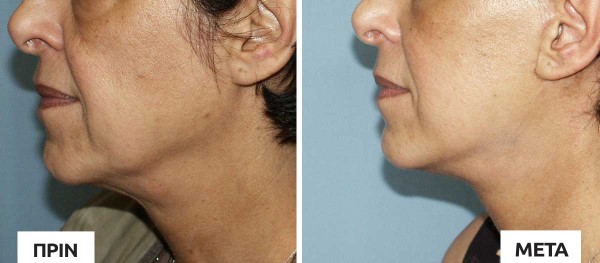 Possible complications
As in any surgery, complications cannot not be excluded. The generalized risks of surgery, such as thrombosis and embolism due to advances in medicine have become extremely rare.
Bruising as a result of bleeding may require an examination  of the wound and a possible immediate restoration.
Skin necrosis in some areas is extremely rare which can be caused by perfusion disturbance ,resulting scars which can be improved with corrective surgery.
This complication is more common in smokers. For this reason quitting smoking is recommended for at least 2 weeks before and 2 weeks after surgery.
Nerve injury, which may lead to permanent impairment of the mobility of the patient, is extremely rare .Hair loss , which may occur in the region of the skull, is also rare.
Occasionally a reduced sensation may occur in a small area of skin, which is usually transient. The initial red and hard scars will become white and soft after some time. However, in some cases they  may be flattened, hard or red depending on the response of the organism. In this case, corrective actions may be required.
After a period of about 3 months the desired result can be observed.
Strict adherence to guidelines is essential for good results.
Please ask us for everything you seem important about Face Lifting.
Postoperative results of operations you can see during your visit to the clinic.